Blog Hops are a blast! I wanted to have a space to preserve the wonderful memories I have started to collect by participating in all of these great events.
They usually have great buttons that the hosts create, so this is my page to showcase the "Blog Hop Flair"
I have earned over the years:


"Colors of Spring Blog Hop" hosted by The Studio Sublime
"The Challenge of Music" hosted by Treasures Found
"7000 Bracelets of Hope" hosted by Elysian Studios and One Kiss Creations
"ABS Ornament Blog Hop 2011" hosted by Art Bead Scene
"2011 Cookie Recipe Swap"
hosted by
Gingerbread Snowflakes
"2011 Stocking Giveaway" hosted by RSISLAND Crafts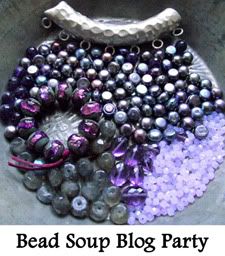 "4th Bead Soup" hosted by Lori Anderson
"The Muffin Tin Challenge"
hosted by
Art Bead Scene
"7000 Bracelets For Hope" hosted by Lori Anderson
"Michael's Bead Challenge:Stormy" hosted by Lorelei Eurto
"ABS Ornament Blog Hop 2010" hosted by Art Bead Scene
"Reader Challenge" hosted by Lorelei Eurto