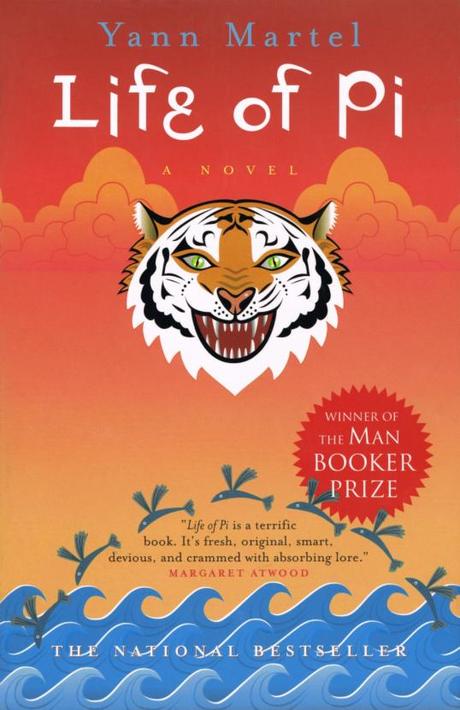 "Richard Parker!" is enthusiastically cried frequently throughout our house at any given time since our family saw "Life of Pi" in the theaters several months ago. This is the yell castaway Pi Patel, the main character in Yann Martel's poignant book, frequently makes to call the Bengal Tiger he has the misfortune of being trapped with on a life boat.
Inspired by the beautiful story and rich complexity of themes in the film, my husband, oldest son, and I decided to read the book together.
We bought the Kindle book, and have each been reading it on our own devices.
This has been a wonderful way to share the joy of reading with each other.
This book is appropriate for middle school aged children, though some themes of philosophy and religion are quite complex, and depictions of certain events and particulars of survival at sea are quite graphic.
"Life of Pi" is perhaps one of the most vividly rich novels I have ever read. Martel's use of lush metaphors engage your senses and compel the story to leap off the page. Often humorous, and always soulful, Pi's narration and introspection forges a strong bond between the main character and the reader. At the end, you realize perhaps this story isn't just Pi's, but maybe we are all castaways adrift in the vast sea of life, with our own "Richard Parker" to contend with.
The book is divided into three parts: Pi's life prior to the shipwreck, Pi's time lost at sea with the tiger Richard Parker, and Pi's recovery after landing ashore. Some readers may find the first part a bit slow, as Pi recounts his diligent search to understand God through various religions. These serious investigations are complimented by humorous stories about Pi's childhood, family and life at a small zoo in Pondicherry, India. The second part of the book is nothing short of page-flipping action, and will keep you wondering how this young man could possibly survive adrift on the ocean in a small life boat with a vicious tiger. The very brief third part will shock you, creating an ending you could not possibly expect!
As The Academy Awards are set to take place tomorrow, I can say that this is one time I am so happy I saw the movie before I read the book. If you didn't have the chance to see "Life of Pi" in the theaters, I highly recommend watching it when it is released on DVD next month. It is a stunning, visually breathtaking film that was passionately and tenderly directed by Ang Lee, and is beautifully representational of Yann Martel's amazing novel.