I want to introduce you to one of my newest paintings, which will be featured in the "Across The Spectrum" show at Zip 37 Gallery:
"Prehistoric Aquarium"
©2013 Erin Fickert-Rowland, oil on canvas, 24 in x 36 in
This original modern abstract oil painting takes you on a unique journey underwater into the prehistoric sea. Colorful ammonites are clustered on the stony sea floor, and surrounded by algae covered rocks, lavender and green coral, and vibrant leafy fronds of kelp. In the distance, a prehistoric organism swims among fan shaped seaweed.
Would you like a glimpse into the painting process?
I work in multiple layers to develop a richly painted surface. I leave bits of earlier layers visible to add interest to the color and texture of each painting.
Many colors are mixed by hand throughout the process:
Here you can see how drastic the changes can be with each painted layer:
Detail of ammonite shells during third layer:
Detail of ammonite shells during fourth layer:
And here I am in the studio painting!
Some sections of the painting will have more layers than others. You can see just how much I changed the swimming sea creature. Throughout the process I have to decide which details in the image are important to keep, and which ones must be let go. Ultimately, I want to complete a painting that is rich in color and texture, and gives the viewer a unique experience.
These are detailed images from the final painting:
"Prehistoric Aquarium"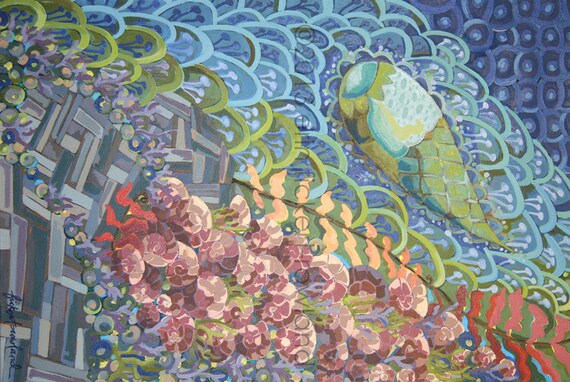 © Erin Fickert-Rowland, oil on canvas, 24 in x 36 in