This painting is part of an ongoing series of work that combines the act of listening to a specific composition of music and painting in the abstract expressionist style.
Jazz musicians inspire me not only because they create beautiful music to experience, but in the way they have to work together to achieve harmony of sound and rhythm. In contrast, painting is a solitary pursuit. However, I use color and brushstrokes much in the same way a musician uses notes and rhythm. Like jazz, these compositions are improvised. I have found them by immersing myself within the song, or performance, itself. In a way, I have joined in the musicians' creative process.
See other pieces in the series here
"Cantaloupe Island"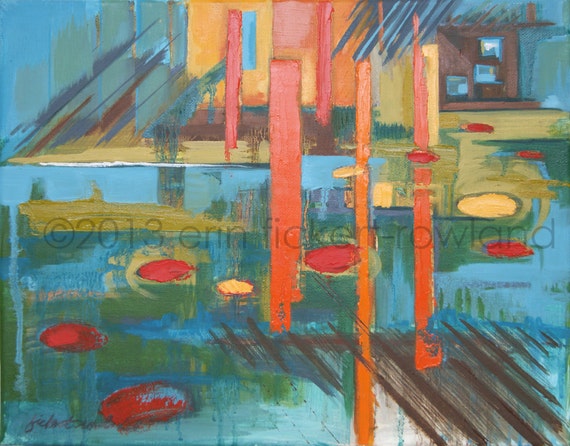 ©2013 Erin Fickert-Rowland, oil on canvas, 14 in x 11 in
"Cantaloupe Island" is a jazz standard recorded by Herbie Hancock in 1964, and one of my very favorites!
When I interpreted this piece of music, I envisioned a tropical island getaway where music and color are abundant. I've used soothing, drippy teals and greens to resemble water. You will find the horizon line a third of the way up, with what appears to be a very modern house. Lines of impasto tangerine orange paint replicate the beat of the music, and individual hot red notes radiate out across the water.
Watch a video clip of Herbie Hancock performing this song:
This painting was part of my show
at Zip 37 Gallery in Denver, June 7-23, 2013.


It is available for sale in the gallery, or online in my Etsy shop.