These paintings are part of an ongoing series of work that combines the act of listening to a specific composition of music and painting in the abstract expressionist style.
Jazz musicians inspire me not only because they create beautiful music to experience, but in the way they have to work together to achieve harmony of sound and rhythm. In contrast, painting is a solitary pursuit. However, I use color and brushstrokes much in the same way a musician uses notes and rhythm. Like jazz, these compositions are improvised. I have found them by immersing myself within the song, or performance, itself. In a way, I have joined in the musicians' creative process.
See other pieces in the series here
"The Jazz Trio"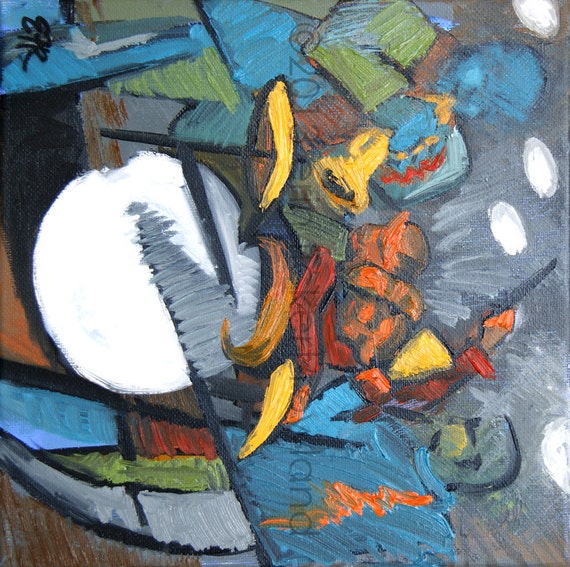 ©2013 Erin Fickert-Rowland, oil on canvas, 10 in x 10 in
The composition for this painting was created while attending a live performance of the Ron Miles Trio at Dazzle Jazz in Denver. It was finished in the studio while listening to their music.
Energetic brushwork,thick impasto paint and vibrant color combine to convey the energetic performance of music.
Click Here for Purchase Information
"Epistrophy"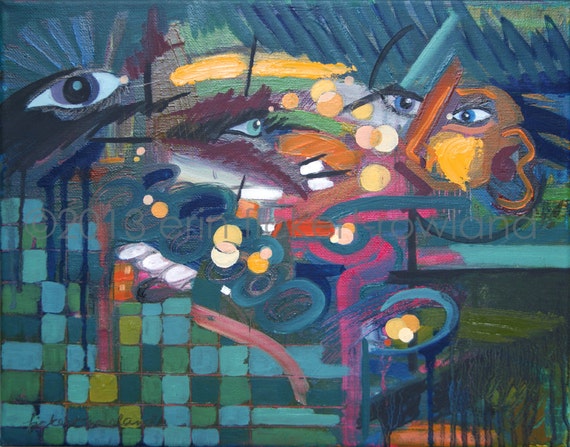 ©2013 Erin Fickert-Rowland, oil on canvas, 14 in x 11 in
"Epistrophy" is a jazz standard composed by Thelonius Monk and Kenny Clarke in 1942. It has been called "the first classic, modern jazz composition."-Anthony Brown, "Modern Jazz Drumset Artistry." It is described as
"a composition that works toward every note being at once improvisational and intentional" -Paper Magazine.
To interpret this piece of music, I've used vibrant color, rhythmic lines and shapes, and paint that is sometimes a bold impasto, and sometimes sheer and dripping. The eyes are references to the communication between the musicians.
Watch a vintage performance of the song:
These paintings were part of my show
"Across the Spectrum"
at Zip 37 Gallery in Denver, June 7-23, 2013.
They are now available for sale online in my Etsy shop.