This painting is part of an ongoing series of work that combines the act of listening to a specific composition of music and painting in the abstract expressionist style.
Jazz musicians inspire me not only because they create beautiful music to experience, but in the way they have to work together to achieve harmony of sound and rhythm. In contrast, painting is a solitary pursuit. However, I use color and brushstrokes much in the same way a musician uses notes and rhythm. Like jazz, these compositions are improvised. I have found them by immersing myself within the song, or performance, itself. In a way, I have joined in the musicians' creative process.
See other pieces in the series here
"West End Blues"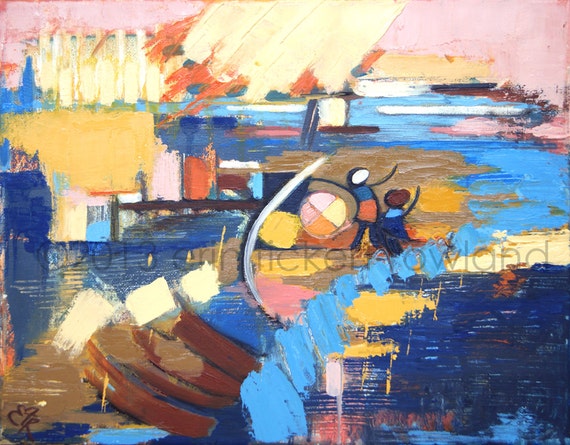 ©2013 Erin Fickert-Rowland, oil on canvas, 14 in x 11 in
One of the most iconic jazz trumpet solos is heard at the beginning of Louis Armstrong's 1928 recording of "West End Blues." Whoo- that is a hot lick of music! This recording is also one of the first examples of improvised "scat singing," and what's not to love about Louis' warm voice? The "West End" refers to the "westernmost point of Lake Pontchartrain in Orleans Parrish, Louisiana.

In its heyday, it was a thriving summer resort with live

music

, dance pavilions, seafood restaurants, and lake bathing"- Wikipedia.
When I listened to this song, I imagined hot summer nights- too hot to stay inside crowded, sweaty music halls. Too hot to do anything exerting. Oh, but when that would sun set, and the cool evening breezes started to blow in, it would have been so nice to dance outside with Louis and His Hot Five playing in the distance.
Perhaps you see the two figures dancing in the middle of the image? When I was painting this, I had a hard time finishing the composition. I actually turned it on its side, and enjoyed forgetting the story. The strong vertical lines and emphasis on color and texture are quite lovely! I asked my fans on Facebook to help me decide, and the majority chose the horizontal orientation. (Click here to see what they said)
Which do you prefer? When you are in the gallery, I give you permission to try hanging it the other way!
Listen to Louis Armstrong play "West End Blues" and enjoy some vintage snapshots of New Orleans:
This painting was part of my show
"Across the Spectrum"
at Zip 37 Gallery in Denver, June 7-23, 2013.
It is now available for sale online in my Etsy shop.